Health & Human Services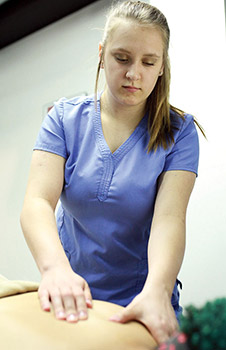 As the use of massage as a form of healing and medical therapy is gaining popularity, the need for licensed massage therapists is also on the rise. The U.S. Bureau of Labor Statistics notes that the job outlook for Massage Therapy will rise faster than average at a rate of 23 percent from 2012-22. In less than a year, students in McLennan Community College's massage therapy program gain the tools they need to succeed in this growing field.
If you are interested in working in a career that involves helping others through mind-body integration, having limitless CEU opportunities, or simply adding to your educational resume, consider McLennan's Massage Therapy Program.
Career Options
There are many employment opportunities for massage therapists, including spas, private practices and health care — for chiropractors, physical therapists and physicians. The median pay for massage therapy in 2012 was $35,970 per year, according to the U.S. Bureau of Labor Statistics.
About the Program
Students receive 470 hours of instruction and laboratory practice from licensed instructors that includes one-on-one instruction and hands-on training. The program covers:
Basic human anatomy and physiology
Professional ethics
Medical terminology
Healing functions of the body
Massage movements and techniques
Equipment use
Safety practices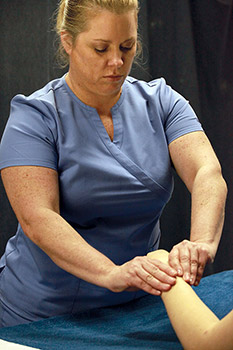 Following classroom instruction, students complete a 50-hour internship, allowing them to practice their skills by giving massages to members of the community. McLennan's Massage program distinguishes itself from other programs by including 20 additional course work hours beyond the state-required 500 hours.
At the end of the program, students are well prepared to take the state examination to become registered under the Texas Department of Health as a licensed massage therapist (LMT).
Students can choose to attend either the day or evening program to fit classes into their schedules around work and family obligations. The day program meets Monday through Thursday from 8 a.m.-4 p.m. Night classes are on an as-need basis with flexible classes meeting two to three times a week from 6-9 p.m.
Entrance Requirements
Before entering the massage therapy program, students must fulfill admission requirements. Students must have:
a high school diploma or GED
current immunizations
a drug screen and
a Texas state background check
For More Information
Please contact Laura Hays at 254-299-8702 or lhays@mclennan.edu.
For students in this program who may have a criminal background, please be advised that the background could keep you from being licensed by the State of Texas. If you have a question about your background and licensure, please speak with your faculty member or program director. You also have the right to request a criminal history evaluation letter from the applicable licensing agency.