Veterinary Technology
General Admissions Requirements
The program accepts up to 30 students each year. Enrollment into the Veterinary Technology program is limited and competitive. Students must meet the admission requirements to McLennan Community College as well as admission requirements into the Veterinary Technology program. A point system is used to select applicants.
Applicants must be a high school graduate or have completed the GED. All developmental courses must be complete in addition to the 4 college electives required as pre-requisite courses. All these courses MUST be complete by the application deadline of June 15.
Test scores are required for assessment by taking the ATI TEAS Exam. Adjusted Minimum Score Required: 60.0%*
Veterinary Technology applicants are required to have a minimum total of (50) hours either working for, volunteering, or observing in an applicable animal care facility or site, such as a private veterinary practice, clinic, animal shelter, etc., working under the supervision of a DVM or LVT, as part of the application for admission consideration requirements. This may be completed at one or more facilities, but a separate form must be used for each site. Documentation must be submitted as part of the application for admission consideration to the program. The form is found on this website under "Documentation of Required Hours" in the column on the left side of the page.
Transcripts of all high school or college-level courses are required.
All required documents MUST be submitted by the application deadline of June 15.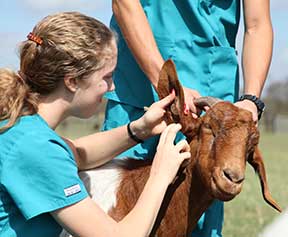 The admissions committee will review and evaluate all information, calculate point accumulation and recommend admission based on the submission of the required information. Applicants with the greatest number of points will be admitted into the program. Applicants are chosen by selection based on the noted criteria. This is NOT an open enrollment program.
Applicants will not be processed until all required information is submitted by the deadline of June 15 for consideration of entry into the program. Therefore incomplete applications are not forwarded for program review. Admission will only be finalized after all admission requirements have been met. Meeting these requirements does not guarantee admission to the program.
This program has established student policies regarding the requirements of the program itself, as well as the responsibilities of the student. Each student accepted will be given a copy of these policies when beginning the program and will be responsible for adhering to them.
An application checklist is included to assist you in submitting all of the required information.
Veterinary Technology Program Checklist
Selection Criteria for Veterinary Technology Program
Applications
Applications are accepted beginning January 1 and ending on June 15 of each year for admission into the program beginning the following Fall semester. Applicants are notified of the Selection Committee's decision no later than July 15th.
Applicants selected for the program will be required to attend a mandatory new student orientation specific for the program prior to the first day of class. Time and date of orientation will be sent to those students selected.
All students accepted into the veterinary technology program will be required to have the following by the first day of class:
Stethoscope
Watch with second hand
One (1) MCC Veterinary Technology Scrub uniform (information regarding this will be provided at orientation)
Closed toed shoes with non-slip bottoms (such as tennis shoes)
Gainful Employment Information
Veterinary Technology