Community Clinic at MCC
A Federal Tort Claims Act Deemed Facility.
The Community Clinic at MCC is a partnership between McLennan Community College and Waco Family Medicine. The Waco Family Medicine operates this primary care clinic for the college's students and employees as well as for the general community.
Services
Preventative Care
Well-child Exams
Well-women Exams
Immunizations
Sports Physicals
Management of Acute Illness
Management of Chronic Illness
Lab Services
Referral to additional services
Available by referral to Family Counseling & Children's Services.
Insurance & Financial Assistance
The Community Clinic accepts most insurance plans, Medicare, Medicaid and the Waco Family Medicine's Good Health Card discount program. If you have insurance, Medicare or Medicaid, you may call anytime to make an appointment. Applications for the Good Health Card program may be picked up at the Waco Family Medicine locations at 1600 Providence Drive, 1911 Martin Luther King Blvd. or 609 Elm Avenue. Please visit their website at https://wacofamilymedicine.org.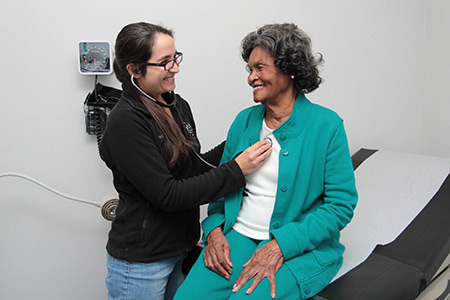 Payments Accepted:
Medicaid for children (6 months to 20 years of age)
Title V
CHIP Dental
Good Health Card (FHC Discount Card)
Indigent County Card for exams.
Self-pay is also available by cash, check, or credit.
Discover credit is not accepted.
Contact Information
Phone: 254-313-5800
MCC's Community Services Center
4601 N. 19th St.
Click here for a map.