U.S. Senator Tom Cotton Event
McLennan Community College's Honors College presents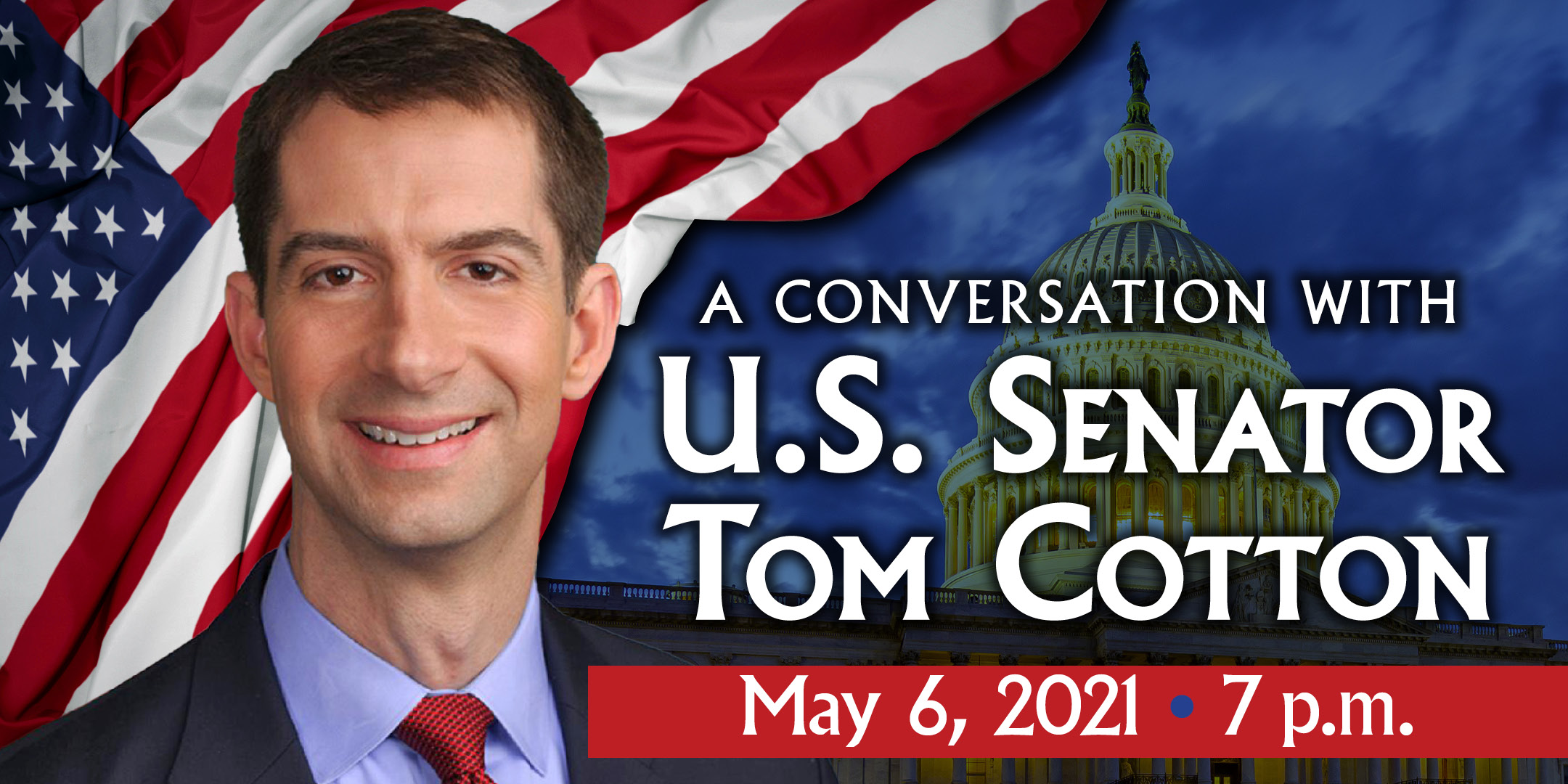 This is a free event, but tickets are required.
You may reserve your ticket(s) starting April 15 at

mcchonors.eventbrite.com.
The McLennan Honors College presents a discussion with U.S. Senator Tom Cotton and McLennan Professor Ashley Cruseturner. Senator Cotton is an authority on U.S. and China relations and the author of New York Times Bestseller "Sacred Duty: A Soldier's Tour at Arlington National Cemetery," which offers an extraordinary journey behind the scenes of Arlington National Cemetery as well as an intimate and inspiring portrait of "The Old Guard." 
Due to COVID-19 restrictions, the capacity of the event venue is limited; however, there is a waitlist that will release tickets as they become available.
About Senator Tom Cotton
Senator Cotton is a United States Senator from Arkansas. His committees include the Judiciary Committee, where he serves as the Ranking Member for the Subcommittee on Criminal Justice and Counterterrorism, the Intelligence Committee, and the Armed Services Committee, where he serves as the Ranking Member of the Air Land Power Subcommittee.
The Senator grew up on his family's cattle farm in Yell County, Arkansas. He graduated from Dardanelle High School, Harvard, and Harvard Law School. After a clerkship with the U.S. Court of Appeals and private law practice, he left law because of the September 11th attacks.
He served nearly five years on active duty in the United States Army as an Infantry Officer. He has also served in Iraq with the 101st Airborne and in Afghanistan with a Provincial Reconstruction Team. Between his two combat tours, Senator Cotton served with The Old Guard at Arlington National Cemetery. His military decorations include the Bronze Star Medal, Combat Infantry Badge, and Ranger Tab.
Between the Army and the Senate, Senator Cotton worked for McKinsey & Co. and served one term in the House of Representatives. He and his wife Anna have two sons, Gabriel and Daniel.
About the Event
Please join McLennan Community College & McLennan's Honors College in this discussion between Senator Cotton and McLennan Professor Cruseturner followed by a Q & A with the audience and a booksigning. Copies of his book, "Sacred Duty," will be available for purchase in the lobby before and after the event.  
For more information about this event, please email us at marcom@mclennan.edu or call 254-299-8640, Marketing & Communications department. 
About McLennan's Honors College
McLennan Honors College is a member of the National Collegiate Honors Council (NCHC), the professional association of undergraduate Honors programs and colleges; Honors directors and deans; and Honors faculty, staff, and students.
NCHC provides support for institutions and individuals developing, implementing, and expanding Honors education through curriculum development, program assessment, teaching innovation, national and international study opportunities, internships, service and leadership development, and mentored research. McLennan Honors College Scholars present papers at regional and national conferences.
For more information about McLennan's Honors College, please visit our webpage.