Adult Education & Literacy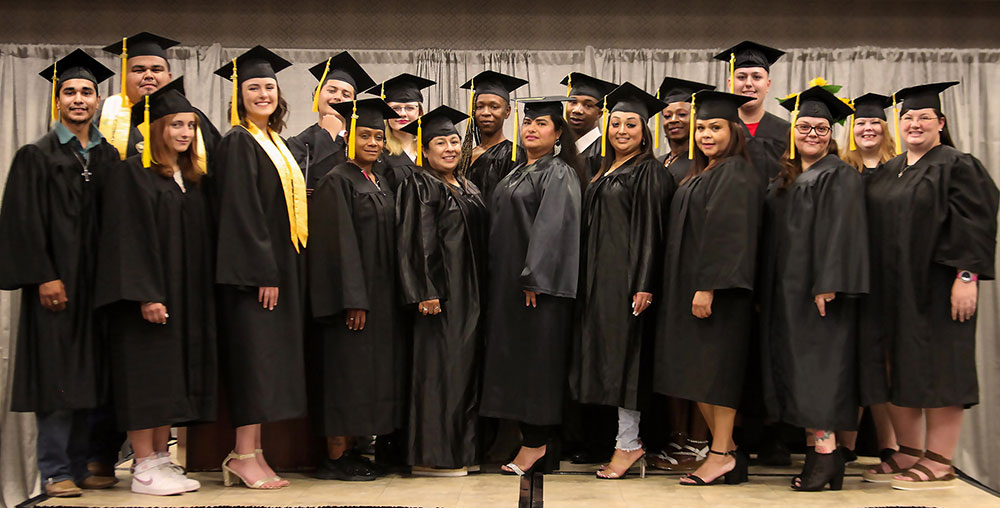 Adult education and literacy programs funded by the Texas Workforce Commission ( TWC ) provide English language, math, reading, and writing instruction to help students acquire the skills needed to succeed in the workforce, earn a high school equivalency, or enter college or career training.
Courses are available online via OneFlow, in-person, in the mornings, and in the evenings. 
---
Current course offerings include:
General Education Development (GED)
English
English as a Second Language (ESL)
English for Professionals
Citizenship
TOEFL Test Preparation
Healthcare
Certified Nurse Aide (CNA)
Certified Medication Aide (CMA)
Patient Care Technician (PCT)
Business
Business Management Occupational Service Award (OSA)
Computer
Basic Computer Skills
Microsoft Office Specialist
Education
Paraprofessional Certificate 
Manufacturing
Certified Logistics Technician (CLT)
Certified Production Technician (CPT)
College and Career Preparation
Workforce Readiness
College Readiness
---
Eligibility
Courses are FREE to students that meet the requirements of the program. 
The Texas Workforce Commission (TWC) Adult Education and Literacy (AEL) program supports opportunities for individuals who are at least 16 years old, lack a high school credential or function below the high school level, or are unable to speak, read or write English, and are seeking career training, high school equivalency preparation or college. TWC partners with local AEL providers, Workforce Solutions offices, and nonprofit agencies to promote an increased opportunity for adult learners to transition to postsecondary education, training or employment. 
Contact Information
Adult Education & Literacy
McLennan Community College
1400 College Drive
Waco, Texas 76708
Call (254)299-8777
Text (254) 503-5919
Email ael@mclennan.edu 
 
Click Facebook to follow our page.