Student Registration
Students may register during these registration dates.
Your WebAdvisor account is activated within 24 hours of the Admissions Office fully admitting you. Before accessing WebAdvisor, please be sure to turn off all pop-up blockers.
From anywhere on MCC's website, click on WebAdvisor in the top blue menu bar.
NOTICE:
If you get an error that reads,
"Your connection is not fully secure"
, follow these instructions:
---
CHROME or EDGE web browsers:
Right-click the "Not Secure" message to the left of the URL (or the web address in the top of the browser).
Select Site Settings.
Set "Insecure Content" to allow.
OR
Click the Advanced button on the left bottom of the error box.
You should see another link that reads, "Proceed to "webadvisor.mclennan.edu" (unsafe).
You may bypass the error by click on the "Proceed to ... (unsafe) link.
---
Firefox web browsers:
You may see an error that reads, "Secure Connection Failed". Follow the instructions below.
Click on "Enable TLS 1.0 and 1.1" or "Accept the Risk and Continue".
---
If these instructions do not work for you, contact our Tech Support.
Logging into WebAdvisor
Go to WebAdvisor.

Transient students, who are excluded from mandatory advising, please click here for registration instructions.

Log in by entering the first letter of your first name (lowercased), the first letter of your last name (lowercase), and your seven-digit MCC ID. 
E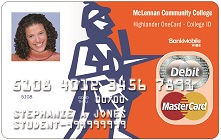 xample: Ima Student (MCC 

ID 0128043) would be is0128043.If you don't know your student ID, you can find it on your Highlander Student ID Card and all official MCC paperwork and admissions email.
Select the Password box and enter your password.
Click on Submit.
First-time students. If you are logging into WebAdvisor for the first time, use the password you created. If you did not create your password within 24 hours of receiving the email notification with the "Create Password" link, please Reset Your Password now. 
Click the "Students" button at the top right.
Click on "Check your registration eligibility" under the "Registration" section.
Click on "Search & Register for Courses" under the "Registration" section.
Find & click on Student Planning. 
Click on "Go to Plan & Schedule" (see red arrow below)

To schedule courses, click "View other sections" under each course to see what days and times they are available.

Once courses have been approved by your advisor, you may now select sections.
As you hover over each section, it will appear on your calendar so you can see any schedule conflicts.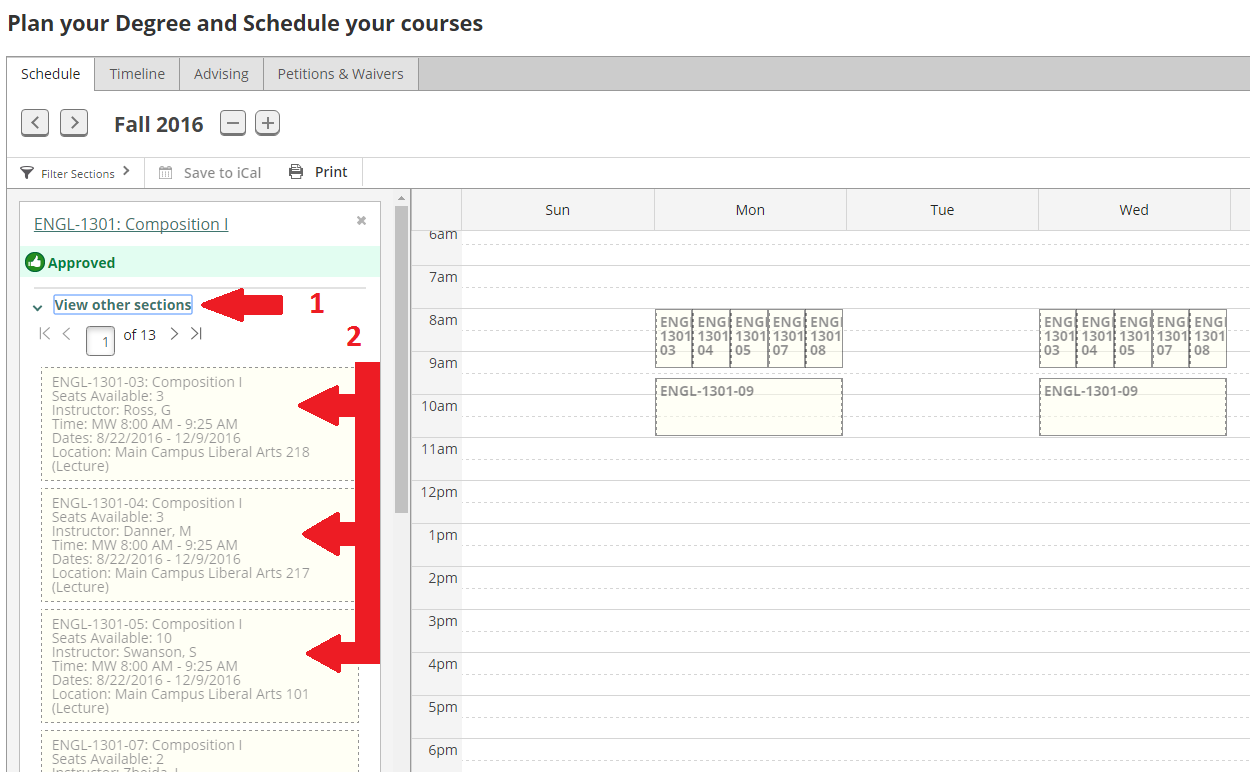 Click the course and then click "Add Section to Schedule"


The course will remain in your calendar and it will show as "Planned" on the sidebar.

Once you have chosen your sections for the semester, click the "Register Now" button on the Plan & Schedule page.

Please note, if you use the "Register" button under the course, you will have to register for each section individually.

Once successfully registered, your courses will appear in all green.

Yellow courses are planned but not registered
Red courses are denied (contact your Advisor for more information regarding denied courses)