Occupational Therapy Assistant
Notice:
The McLennan Community College Occupational Therapy Program is now located on the main campus.  Program classes are taught in the Health Professions Complex.  For pre-program advising, please contact
advising and career services
. For information about the program, application process, or profession, please contact the
program director
.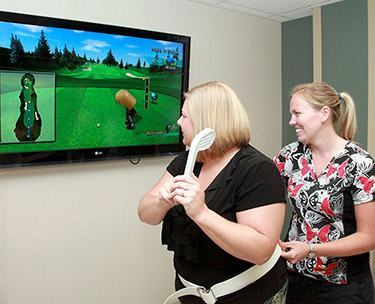 The Occupational Therapy Assistant (OTA) program at McLennan Community College is a two-year associate degree program that prepares graduates to become licensed occupational therapy assistants.
Occupational therapy helps people of all ages participate in the everyday activities (occupations) that they want and need to do. Occupational therapy addresses activities in all environments (e.g., home, work, school, community), as well as the physical, psychological, and cognitive aspects of an individual's well-being through participation in occupations.
McLennan's OTA program begins each year in the fall. The curriculum provides theory, lab practice, and clinical experience to prepare students to perform quality patient care. Upon satisfactory completion of the program, the student will be awarded an Associate in Applied Science (A.A.S.) degree.
OTA program graduates are eligible to become licensed occupational therapy assistants by successfully passing the national certification examination administered by the National Board for Certification in Occupational Therapy (NBCOT). The state of Texas also requires the OTA to be licensed by the Texas Board of Occupational Therapy Examiners.
Please Note: A felony conviction, or certain misdemeanor convictions, may affect a graduate's ability to sit for the NBCOT Certification Examination or obtain state licensure. See NBCOT and TBOTE websites for specific eligibility requirements.
Accreditation: The Occupational Therapy Assistant Program is accredited by the Accreditation Council for Occupational Therapy Education (ACOTE) of the American Occupational Therapy Association (AOTA), located at 6116 Executive Blvd., Suite 200,  North Bethesda, MD 20852-4929. ACOTE's telephone number c/o AOTA is 301-652-6611 and Web address is www.acoteonline.org/.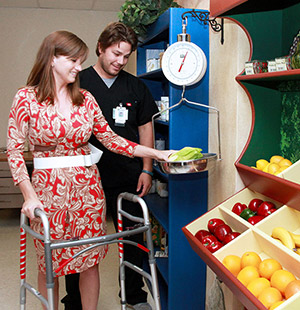 Mission
In support of the McLennan Community College mission statement, the OTA program joins McLennan in the endeavor to "engage and strengthen the community" by educating and training competent entry-level occupational therapy assistants who will provide top-quality therapy services to diverse populations in various types of health care settings. The Occupational Therapy Assistant program is dedicated to providing a high-quality, dynamic, educational curriculum to prepare highly competent occupational therapy assistants who are skilled at meeting the needs of consumers from diverse backgrounds and rapidly changing service delivery systems.
For More Information
Please call 254-299-8154 or email chenry@mclennan.edu for more information. 
For students in this program who may have a criminal background, please be advised that the background could keep you from being licensed by the State of Texas. If you have a question about your background and licensure, please speak with your faculty member or program director. You also have the right to request a criminal history evaluation letter from the applicable licensing agency.