Surgical Technology
---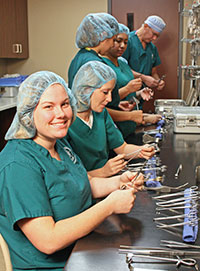 McLennan's Surgical Technology program is an associate degree program that trains students through strict aseptic technique guidelines to function as one of the sterile team members in the preparation, setup and maintenance of the sterile field. Surgical Technologists prepare the operating room by selecting and having readily available the surgical supplies, instruments and equipment necessary to establish the sterile surgical field.
The mission of McLennan's Surgical Technology program is to provide students with the opportunity to obtain and apply affective, cognitive, psychomotor knowledge and skills to be employed as an entry-level Surgical Technologist and become contributing members of the health care team.
Surgical Technology students receives didactic and laboratory experience as well as supervised clinical experience in preparation for an entry-level position.
Upon graduation and successfully passing the national certification examination, the student will be professionally recognized as a Certified Surgical Technologist (CST).
Accreditation
The McLennan Community College Surgical Technology program is accredited through the Commission of Accreditation of Allied Health Education Programs (www.caahep.org) upon the recommendation of the Accrediting Review Council on Education in Surgical Technology and Surgical Assisting (ARC/STSA).
McLennan Community College is accredited by the Southern Association of Colleges and Schools Commission on Colleges to award the Associate of Arts, Associate of Science, Associate of Arts in Teaching, and Associate of Applied Science degrees. Contact SACSCOC at 1866 Southern Lane, Decatur, Georgia 30033 or call 404-679-4500 for questions about the accreditation of McLennan Community College.
For more information on institutional accreditation:
https://www.mclennan.edu/about/accreditation.html 
For More Information
Please contact Marcie Rierson, Program Director, at 254-299-8292 or mrierson@mclennan.edu.
For students in this program who may have a criminal background, please be advised that the background could keep you from being licensed by the State of Texas. If you have a question about your background and licensure, please speak with your faculty member or program director. You also have the right to request a criminal history evaluation letter from the applicable licensing agency.