Patient Care Technician
Patient Care Technicians are healthcare professionals who provide direct patient care within their regulated scope of practice. Become a Patient Care Technician with this short-term Community Health program! 
Course Dates
.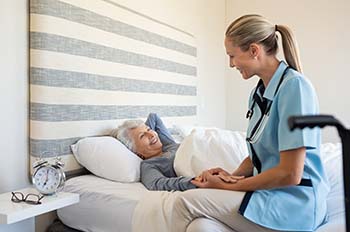 Course Description
Prepare for the National Certified Patient Care Technician Test through classroom and clinical experience at MCC.
Learn to perform basic nursing assistant tasks (as delegated by the nursing or medical staff), communicate with the healthcare team and patients, assist with activities of daily living (ADLs), comply with confidentiality requirements, and perform EKGs and phlebotomy tasks.
Class Requirements/Prerequisites
Drug screening (at least 10 panel or more, within 30 days before class start date)
Must be a high school student, have a high school diploma, or GED
Texas statewide criminal background check (within 30 days before class start date)
Proof of immunization against;

Hepatitis B (HepB), 3 vaccines; Varicella (Chickenpox), 2 vaccines; Diphtheria/Tetanus (Td, DT, DTaP, Tdap), including a recent vaccine within the last 10 years; Flu Vaccine within the last 12 months, Covid-19, and/or MCC approved exemption form; and Tuberculosis (TB/PPD) x-ray or skin test within the past year.*
NOTE: *Shot records may be obtained from your physician, the public health district, or any other licensed facility. We DO NOT accept screenshots. Please bring in, email, or fax your document. MCC is not responsible for drug test or background check costs and will not provide refunds based on unexpected results or ineligibility due to results.
For More Information: Scan the QR code above or contact Continuing Education 
254-299-8888
CLASS/SECTION NUMBER:  NUPC 1020/1060
FALL SCHEDULE:
9/18/23-10/10/23 M-TH 8am-3pm (Clinical times may vary)
11/6/23-11/30/23 
M-TH 8am-3pm (Clinical times may vary)

CLASSROOM LOCATION:  CSC E160