Marketing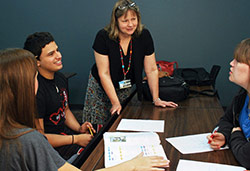 In today's highly competitive and global economy, most companies and organizations rely on the professional expertise of marketing, advertising and sales consultants to give their businesses a competitive edge. From retail sales to international business and market research to advertising, marketing specialists play key roles in buying, selling, and promoting products and services.
In MCC's Marketing Program, you will gain the fundamental knowledge and skills required to work effectively in this dynamic and growing field. Emphasis is on developing skills in marketing strategy, advertising, salesmanship and retailing management. On-the-job training internships supplement the classroom experience.
Mission
The mission of the marketing department is to provide quality education and training in marketing, salesmanship, advertising, international business and management practicum experiences through internships to students enrolled in credit courses. This instructional department is responsible for: improving the planning, leading, organizing, controlling and decision-making skills of learners, improving the academic persistence among students through advising, counseling, tutoring, and increasing the training opportunities and qualifications for workers needed in area organizations.
Join the Marketing Program Today!
Are you ready to take the next step toward a rewarding and profitable career?  Contact Business Programs at MCC by calling (254) 299-8695 or complete the following form to have a Business Programs advisor reach out to you: Click here to have an advisor contact you. 
Ask your advisor to enroll you in the following programs or show them this information (text inside of parenthesis are WebAdvisor program codes used by advisors):
Marketing Certificate (MGT.MARKETING.CERT)
Marketing AAS (MGT.MARKETING.AAS)