Mental Health/Social Work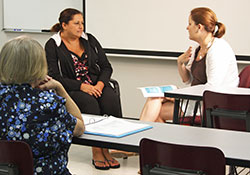 Have you ever wondered why people behave the way they do? If you are interested in helping people reach their potential, develop problem-solving skills, and build fulfilling lives, a career in mental health could be a perfect fit for you!
As a mental health professional, employment settings may range from residential facilities to community programs. McLennan's Mental Health program will prepare you to work with youth, clients with addictions, people with disabilities, and others in need of professional help.
About the Program
Through volunteer work, you will learn to develop relationships with clients, patients, and residents in various social services and nonprofit settings.
Students are required to take:
Orientation to Social Services - students learn about the various populations and programs in the mental health field
Basic Counseling Skills - students practice counseling skills they will use in any mental health setting
Pharmacology of Substance Use Disorders - students learn about how the body becomes addicted to drugs
You can expect to be ready to enter the workforce after completing a certificate or associates degree. The practicums allow you to apply skills and techniques learned in the classroom.
For More Information
Please contact David Fleuriet, Program Director, Zoom Link:  953 226 028 or dfleuriet@mclennan.edu or 254.299.8718
For students in this program who may have a criminal background, please be advised that the background could keep you from being licensed by the State of Texas. If you have a question about your background and licensure, please speak with your faculty member or program director. You also have the right to request a criminal history evaluation letter from the applicable licensing agency.