Vet Assistant
With veterinary assistants in high demand, McLennan Community College offers a one-year program for individuals who want to become veterinary assistants. Students receive a Certificate of Completion as a veterinary assistant.
There is an ongoing need for paraprofessionals at all levels in the veterinary industry, and offering this assistant certificate will help meet that need.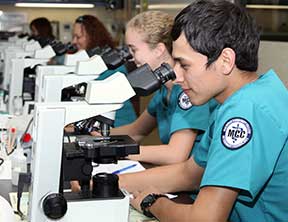 MCC's veterinary assistant program trains students to assist veterinarians and veterinary technicians in caring for animals in clinical settings, research areas and other veterinary-related fields. Students receive both classroom instruction and laboratory training at MCC's Highlander Ranch, which includes a 10,000-square-foot animal hospital and specialized facilities for veterinary technician or assistant training.
Students who complete the certificate program may apply those classes toward the associate degree program in veterinary technology if they want to continue their education. Students must meet all the application requirements for the two-year program. 
The certificate program offers a great alternative for individuals who cannot commit to a two-year program for various financial or family situations.
Duties of a veterinary assistant include caring for animals and assisting in examining them for signs of illness, disease or injury. Assistants may provide routine postoperative care, administer medication and prepare samples for laboratory examination under the supervision of veterinary or laboratory animal care technologists or technicians, veterinarians or scientists.
Program Requirements
Veterinary Assistant applicants are required to have a minimum total of (25) hours either working for, volunteering, or observing in an applicable veterinary facility, such as a private veterinary practice, clinic, animal shelter, etc., working under the supervision of a DVM or LVT, as part of the admission consideration requirements. This may be completed at one or more facilities, but a separate form must be used for each site.
Documentation must be submitted as part of the application for admission consideration to the program. The form is found on this website under "Documentation of Required Hours" in the column on the left side of the page.
Application deadline is June 15 of each year.
Applicants will not be processed until all required information is submitted by the deadline of June 15 for consideration of entry into the program. Therefore incomplete applications are not forwarded for program review. Admission will only be finalized after all admission requirements have been met. Meeting these requirements does not guarantee admission to the program.
Applicants are chosen by selection based on the noted criteria. This is NOT an open enrollment program.
This program has established student policies regarding the requirements of the program itself, as well as the responsibilities of the student. Each student accepted will be given a copy of these policies when beginning the program and will be responsible for adhering to them.
Applicants selected for the program will be required to attend a mandatory new student orientation specific for the program prior to the first day of class. Time and date of orientation will be sent to those students selected.
Students accepted into the veterinary assistant program will be required to have the following by the first day of class:
Stethoscope
Watch with second hand
One (1) MCC Veterinary Technology Scrub uniform (information regarding this will be provided at orientation)
Closed toed shoes with non-slip bottoms (such as tennis shoes)
For more information, contact Sue Allen at 299-8742 or suallen@mclennan.edu
For students in this program who may have a criminal background, please be advised that the background could keep you from being licensed by the State of Texas. If you have a question about your background and licensure, please speak with your faculty member or program director. You also have the right to request a criminal history evaluation letter from the applicable licensing agency.