Peer Assisted Student Success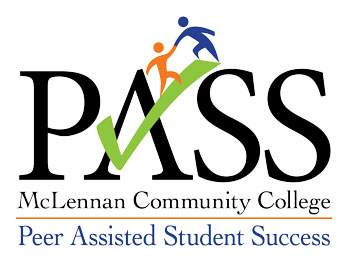 What is PASS?
McLennan Community College (MCC) is an accredited institution under the Southern Association of Colleges and Schools Commission on Colleges (SACSCOC). One of the requirements for sustained accreditation status is the development and implementation of a five-year Quality Enhancement Plan (QEP) once every ten years. Peer Assisted Student Success (PASS) is currently being piloted as McLennan's proposed QEP with full-scale implementation slated to begin in Spring 2022.
PASS will focus on the enhancement of the first-year experience and improving student success by implementing and strengthening student support structures, including building a framework in which students help students through peer mentoring and supplemental instruction teams to promote the first-year learning experience and persistence.
Primary Goals of PASS
To restructure the first-year experience by addressing student resilience through…
Restructuring the Learning Framework course and curriculum
Incorporating peer leaders to support students throughout the first year
Building connections through Pathway cohorts
To integrate and build academic support structures to promote persistence by…
Incorporating tutoring and supplemental instruction into the campus-wide Peer Leadership Initiative
Providing supplemental instruction options for all students in support of developmental education, Learning Framework, and gateway courses
For more information, please contact:
Amber Bracken
Director of QEP
254-299-8942