History and Traditions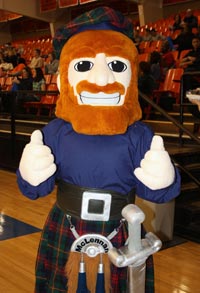 History
Located in Waco, Texas, McLennan was established in 1965 by the citizens of McLennan County. McLennan was the first junior college in Texas to incorporate the word "community" in its name. For 50 years, McLennan has been serving Waco and the surrounding areas to help community members achieve their educational goals.
Traditions
The McLennan tartan, the wool fabric with the distinctive plaid pattern of the McLennan clan, is the official college banner.
The McLennan crest, depicted by a human heart pierced by passion nails, is the official college seal. The motto of the crest is "HOC MAJORUM VIRTUS," which is interpreted as "This is the valor of my ancestors." The colors of the McLennan tartan are the official college colors. The college flag displays a Highlander in black against an orange and white background.
MCC Alma Mater
High above still Bosque waters,
We with reverence sing to thee.
Of our love and our devotion,
Of our pride and loyalty.
Long may McLennan stand
Honor is her due.
May a grateful generation
To her name be true.
Hear us now O' Alma Mater,
As we proudly sing to thee,
Take from us our hearts devotion,
Hail to M.C.C.
MCC Chorale singing the MCC Alma Mater
Music and lyrics by Rob Page, Division Chair the Visual and Performing Arts Department
Mascot
McLennan's mascot is the Highlander, a Scottish warrior in battle dress with a sword and shield. You can spot our mascot, Mac, at a variety of athletic, campus and community events.
Athletic Excellence
Over the last three decades, the Highlanders and Highlassies have established a tradition of excellence. McLennan teams have won nine NJCAA National Championships, and the McLennan Dance Company is one of the most recognized junior college squads in the nation. Athletes perform well in the classroom as well, regularly earning NJCAA Academic Team of the Year honors.