About the Program
Students entering the Paramedicine/EMS program at MCC have an opportunity to select the level of education they would like to achieve. All students begin their education with the Emergency Medical Technician (EMT) course, which is completed in one regular semester.
After successful completion of the EMT program, the student is eligible to take the National Registry examination and apply for state certification. Students who achieve their Texas EMT certification can continue through the Paramedic education level of training.
Students may select whether they want to complete a Level 2 certificate or an Associate in Applied Science Degree in Paramedicine. All students take the National Registry examination following successful completion of their college course work.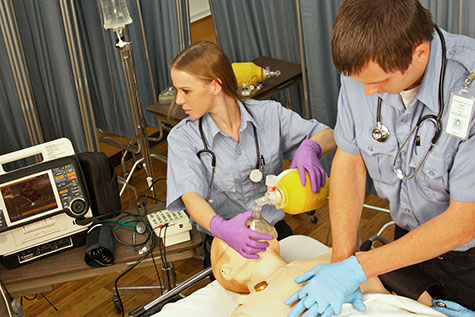 What You'll Learn
Paramedicine/EMS education teaches you how to care for patients of all ages with various types of traumatic and medical emergencies. You'll learn to perform basic and complex patient assessment and treatment skills. Students participate in classroom, skills and simulation lab, ambulance ride-outs, and hospital clinical assignments.
Career Options
After you've successfully completed the EMT program, you may choose to continue your EMS education or attend the MCC Fire Academy. EMT graduates may choose to work for a private or public emergency services agency.
Paramedics work in hospital emergency departments and prehospital settings (ambulance & air medical programs) under the supervision of an emergency physical. All EMS graduates have the opportunity to benefit their communities by working as a volunteer or first responder.
MCC's Program
The MCC Paramedicine/EMS program has been training emergency care providers for more than 30 years. The faculty provides student-centered education at the college's Emergency Services Education Center (ESEC). Opened in 2009, the ESEC is located on spacious property where extrication classes are conducted each semester.
The Paramedicine/EMS faculty work closely with area emergency care providers and the medical community to present relevant case reviews and emergency scenarios.
McLennan Community College is accredited by the Commission on Accreditation of Allied Health Education Programs (www.caahep.org) upon the recommendation of the Committee on Accreditation of Educational Programs for the Emergency Medical Services Professions (CoAEMSP).
Commission on Accreditation of Allied Health Education Programs
9355 - 113th St. N, #7709
Seminole, FL 33775
727-210-2350
www.caahep.org
To contact CoAEMSP:
8301 Lakeview Parkway Suite 111-312
Rowlett, TX 75088
214-703-8445
FAX 214-703-8992
www.caahep.org
Training
State-of-the-art classrooms and a large simulation and skills lab provide ample space for students and faculty to engage in challenging educational activities. An ambulance simulator and computer-enhanced simulation manikins support educational activities.
AV recording equipment in the skills/simulation lab allows faculty to record and evaluate student performance. Outside, Paramedicine/EMS and MCC's Fire Academy students share a multi-story tower used for field-based scenarios and physical training. A challenging agility course, including rough terrain and numerous crawling and climbing structures, enhance students' physical preparation for an EMS career.
Paramedicine/EMS students receive training in many field-based scenarios, including mass casualty, residential and commercial settings, highway, and hospital-based situations. Students develop a realistic sense of urgency using simulation manikins that respond to student-directed treatments in a controlled environment.
Additional Benefits
Each student has an EMS Faculty advisor who enrolls the student in each required course and is readily available to assist with any challenges during their MCC education. Students also benefit from individualized instruction and an average student-to-instructor ratio of 7 to 1.
Students have the opportunity to experience potential worksites through clinical and prehospital experiences, which are conducted in local hospitals and with regional EMS services. MCC Paramedicine/EMS graduates are in demand by area employers and have excellent job placement opportunities upon successful program completion.
Program Requirements
Apply to McLennan and submit all required information (including all previous high school and college transcripts and ACT/SAT/TSI Assessment scores) to Highlander Central.
Paramedic Level 2 certificate and Paramedicine AAS applicants must have a current Texas EMT certification (see below: Paramedicine Level 1 Certificate).
Paramedicine Level 2 and Paramedicine AAS applicants must complete the Texas Success Initiative examination (TSI). All required developmental courses must be completed before enrolling in the program.
Students must complete a conference with an EMS faculty advisor. Call Justin Lawson at (254) 299-6504 for an appointment. You may also e-mail questions to jlawson@mclennan.edu .
Applicants must have a current CPR certification and meet all admission requirements.
The Paramedicine Level 2 Certificate Program begins in January each year.
The Paramedicine Level 1 Certificate (EMT program) is one semester in length and is offered each semester.