Paramedicine
Welcome to MCC's Paramedicine Program. Paramedics work primarily in prehospital settings (ambulance & air medical programs) under the supervision of an emergency physician. Paramedics provide life-saving interventions for adult and pediatric patients with medical and trauma emergencies. The program includes prehospital field internships, hospital clinical rotations, classroom, skills lab, and simulation training.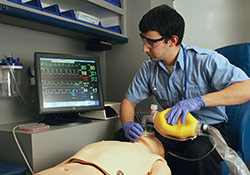 Students may complete the 20-month Certificate program or the 2-year Associate Degree program. All graduates are eligible to take the National Registry examination.
For more information, contact Justin Lawson at (254) 299-6504 or email  jlawson@mclennan.edu  .
Mission Statement
The mission of EMS/Paramedic Education is to prepare students to provide competent, compassionate patient-centered care in prehospital and emergency settings. The curriculum prepares Paramedic and EMT students with the cognitive and psychomotor emergency medical training to successfully complete the National Registry examination and meet the Texas requirements to become a certified EMS professional.
Admission Requirements
Apply to McLennan and submit all required information (including all previous high school and college transcripts and ACT/SAT/TSI Assessment scores) to Highlander Central.
AAS/Paramedicine and Paramedic Level 2 certificate applicants must have a current Texas EMT certification (see below: Paramedicine Level 1 Certificate).
Paramedicine Level 2 and Paramedicine AAS applicants must complete the Texas Success Initiative examination (TSIA). All required developmental courses must be completed before enrolling in the program.
Students must complete a conference with an EMS faculty advisor. Call Justin Lawson at (254) 299-6504. You may also e-mail questions to jlawson@mclennan.edu.
The AAS/Paramedicine and Paramedicine Level 2 Certificate Programs begin in January each year.
The Paramedicine Level 1 certificate (EMT program) is one semester in length and is offered each semester.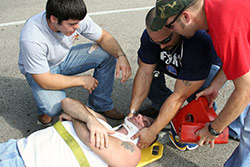 Students must maintain a minimum grade of B in all EMSP courses in order to continue in the program. Students who fail to successfully complete all program requirements will not be eligible to take the National Registry examination.
Paramedic Program Outcomes
CAAHEP Accredited Paramedic Programs and CoAEMSP Letter of Review (LoR) Programs track and report outcome measures annually to the Committee on Accreditation for the Emergency Medical Services Professions (CoAEMSP).
The most current CoAEMSP Annual Report was for the calendar year 2021.
The most recent success rate for the National Registry of EMT Paramedic/State Cognitive exam was 83.3%.
The most recent positive placement rate for graduates was 83.3%. Positive placement is defined by the CoAEMSP as 'Employed full or part-time in a related field and/or continuing his/her education and/or serving in the military'. Positive placement is measured at the completion of the program.
The most recent retention rate was 60%.
Overall National Registry Cognitive
Overall National Registry Psychomotor
Accreditation and Licensing
McLennan Community College is accredited by the Commission on Accreditation of Allied Health Education Programs ( www.caahep.org) upon the recommendation of the Committee on Accreditation of Educational Programs for the Emergency Medical Services Professions (CoAEMSP).
Commission on Accreditation of Allied Health Education Programs
9355 - 113th St. N, #7709
Seminole, FL 33775
727-210-2350
www.caahep.org
To contact CoAEMSP:
8301 Lakeview Parkway Suite 111-312
Rowlett, TX 75088
214-703-8445
FAX 214-703-8992
www.caahep.org
For students in this program who may have a criminal background, please be advised that the background could keep you from being licensed by the State of Texas. If you have a question about your background and licensure, please speak with your faculty member or program director. You also have the right to request a criminal history evaluation letter from the applicable licensing agency.