Emergency Services Education
Emergency Services Education encompasses several programs that train individuals in emergency services fields: Criminal Justice, Fire Protection Technology, Law Enforcement Academy and Paramedicine.
These programs are housed in the Emergency Services Education Center (ESEC), located off campus on Steinbeck Bend. This state-of-the-art facility was constructed specifically for training individuals in emergency services fields.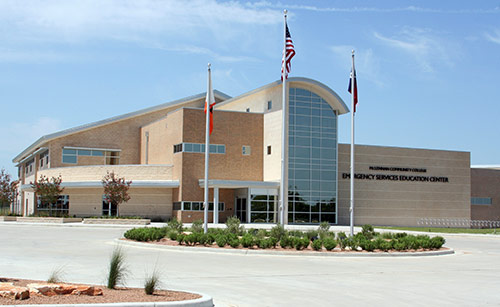 The ESEC includes a six-story burn tower and mock firehouse bay that provide realistic training for Fire Academy students. Law Enforcement students use a weight room and takedown room, where they learn how to handle aggressive citizens and subdue people without injury. The ESEC also has state-of-the-art labs for Forensic Science and Paramedicine students.
Address:
7601 Steinbeck Bend Rd.
Waco, TX 76708
Accreditation
McLennan Community College is accredited by the Southern Association of Colleges and Schools Commission on Colleges to award the Associate of Arts, Associate of Science, Associate of Arts in Teaching, and Associate of Applied Science degrees. Contact SACSCOC at 1866 Southern Lane, Decatur, Georgia 30033 or call 404-679-4500 for questions about the accreditation of McLennan Community College.
Title IX
Concerns dealing with TITLE IX and other non-specified Civil Rights Issues contact:

Claudette Jackson, Acting Title IX Coordinator
Director, Diversity, Equity & Inclusion
McLennan Community College
Student Services, Suite 319
1400 College Drive
254-299-8465
cjackson@mclennan.edu or
titleix@mclennan.edu
McLennan Community College provides equal opportunities to all individuals and does not discriminate against any individual regardless of race, color, religion, national or ethnic origin, gender, disability, age, veteran status, genetic information, sexual orientation, gender identity, pregnancy, or other legally protected category in its educational programs, activities, or employment.
http://www.mclennan.edu/employees/policy-manual/docs/E-XXXIV.pdf
A lack of English language skills will not be a barrier to admission to and participation in career and technical education programs. La falta de conocimiento del idioma inglés no será un impedimento para la admisión y participación en programas de educación técnica y profesional.
McLennan Community College se compromete a proporcionar igualdad de oportunidades a todas las personas y no discrimina a ninguna persona independientemente de la raza, color, religión, origen nacional o étnico, género, discapacidad, edad, condición de veterano, información genética, orientación sexual, identidad de género, embarazo u otra categoría legalmente protegida en sus programas educativos, actividades o empleo. Para obtener información sobre el cumplimiento de esta política de no discriminación por parte dea institución, comuníquese con vicepresidente Éxito Estudiantil, 1400 College Drive, 254-299-8645, titleix@mclennan.edu.