Geology Department

Welcome to the geology department of MCC. The goals of our department include: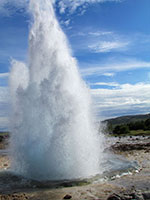 Geyser eruption in Iceland
Helping students interpret Earth's landforms and correlate how natural resources formed throughout geologic history
Assisting students in learning how geologic resources are utilized by humans and the value these resources provide to humans
Promoting awareness of and active participation in learning, volunteering and completing undergraduate research in programs designed to study and conserve our geologic resources
Exposing students to the development of life forms on Earth throughout geologic history as documented in the rock record
Geology Courses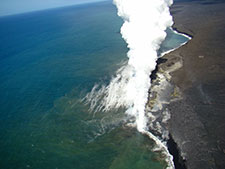 Hydro-volcanic eruption in Hawaii
Physical Geology includes information on volcanoes, geysers, earthquakes, tsunamis, canyon formation, mountain building, structural faults and folds, glaciers, and other aspects of how the Earth was made.
Historical Geology explains when life forms and geologic features were created over the Earth's 4.54 billion years of history.
Earth Science explores the four major physical sciences, including astronomy, meteorology, oceanography and geology.
Local Field Trips
The Geology department offers local field trips in courses to help you experience geology in the field. Students visit places like the Waco Wetlands, Waco Mammoth National Monument, Shale Pit and others.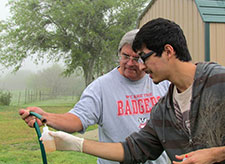 MCC Honors College student Santiago Vallejo conducting research on the water quality impacts of hydraulic fracking
Research Opportunities
You'll have the opportunity to complete undergraduate research through mentoring with an experienced faculty member within the Geology program. If you're planning to pursue a career in the earth sciences, your research will incorporate field experience as well.
Traveling Field Courses
The department offers an exciting Geology Field Course that includes a paleontological dig component and several weeks of incredible travel through Arizona, New Mexico and Utah. The field course lecture courses are offered as online courses while the labs are offered as a hybrid course. Hybrid courses allow students to experience labs in the classroom, online, and in the field. The course starts in February as a flex-entry course and then travels after MCC finals are complete and returns before the Summer I session begins. You can earn up to two 4-hour core science credit courses depending on your degree plan. Scholarships are available to help you pay for this amazing educational opportunity.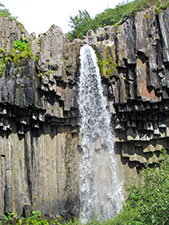 Columnar jointing in Iceland
The goal of geology courses at MCC is to expose students to the awesome landforms and history of Earth. Come learn about how the Earth is made at MCC!
For More Information
Contact Elaine Fagner at 254-299-8442 or efagner@mclennan.edu.