Application Process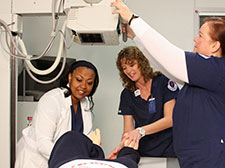 All prospective students should be advised by a Radiologic Technology faculty member.
Admission Process
Applications are due by June 1 to be considered for admission for the fall of that same year. Meeting the criteria does not guarantee acceptance into the program.
Application Requirements
Transfer from an Outside Radiography Program Policy
The MCC Radiologic Technology Program does NOT offer transfer options for students who are currently enrolled in an outside radiography program. In addition, no transfer credits will be given to students who have previously been enrolled in an outside radiography program and wish to pursue completion of their degree at MCC. The didactic and clinical education components of our program are very structured and integrated; therefore a transfer student classification would be detrimental to the goals and objectives of the program.
In order to be considered for admission into the McLennan Community College's AAS in Radiologic Technology program, potential students must complete the entire application process and meet all admission requirements.
Admission Criteria
MEETING THE MINIMUM CRITERIA DOES NOT GUARANTEE ACCEPTANCE TO THE PROGRAM.
Applicants are admitted to the program based on the following two stage ranking system until the enrollment limit has been reached.
Stage One: GPA/Curriculum Completion points system. For more information, please see the "Stage One Points System" details below.
In the event of a tie in points scored between two or more candidates, the program will use the highest earned GPA to determine advancing to Stage Two.
Stage Two: Admission Interviews. A preselected number of the top scoring candidates from Stage One will be called back for interview on a specific date sometime within 7-14 days after the June 1 application deadline. Interviews will be conducted by a panel consisting of faculty and experts in the field utilizing a systematic approach and scoring criteria.
Note: It is the responsibility of each candidate to ensure their email, phone, and mailing address are correct on the Radiologic Technology program application. The program is not responsible for those candidates that do not receive their notification due to incorrect or outdated contact information. Failure to show up for the interview will forfeit the candidate's opportunity for admission.
In the event of a tie in the points scored between two or more candidates from the Admission Interview scoring, the program will use the following alternative methods (as needed and in the order listed) to determine acceptance.
The GPA/Curriculum Completion score (Stage 1 score)
The highest earned GPA
Health Professions Student Guide to Interviews
GPA/Curriculum Completion points system
Points are assigned to rank applications by using categories A (GPA) + B (Hours Successfully Completed) + C (Completion of Anatomy & Physiology Courses with Grades of B or Better) + D (Completion of High School Health Science Track) + E (Military Service) + F (Reapplication Points)
A. GPA
GPA will be determined from coursework completed in the Radiologic Technology curriculum. Non-developmental courses only.
B. Hours Successfully Completed in the RADR Curriculum
| | |
| --- | --- |
| 19 - 22 Hours | 10 points |
| 15 - 18 Hours | 8 points |
| 11 - 14 Hours | 6 points |
| 7 - 10 Hours | 4 points |
| 3 - 6 Hours | 2 points |
C. Completion of Anatomy & Physiology Courses with grade of A or B
| | |
| --- | --- |
| Biology 2401 Anatomy & Physiology I | 2 points for A, 1 point for B |
| Biology 2402 Anatomy & Physiology II | 2 points for A, 1 point for B |
D. Tech - Prep
| | |
| --- | --- |
| Completion of High School Health Science Track | 1 point |
E. Prior U.S. Military Service
| | |
| --- | --- |
| Documented service, honorable discharge | 1 point |
F. Reapplication Points
| | |
| --- | --- |
| If you were not accepted the first time you applied, you may be eligible for reapplication points. Second time applicants to the program who complete an established plan of application improvement, developed with the program director, will be awarded 2 points on reapplication. This is good for one application cycle only. | 2 points |