Get a Tutor
Free tutoring services are available to all McLennan, University Center, and High School Pathways students on a first-come, first-served basis.
Each tutor has earned a B or higher in the courses they tutor and has maintained a minimum GPA of 3.0. Tutors are required to complete training through our program in order to provide every student with appropriate academic support.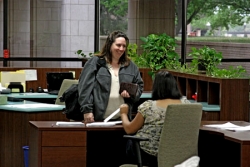 Important
AST strives to have tutoring available for all core subjects during open hours. Tutoring in specialized subjects is available based on a tutors' schedules. Please contact CAE for further information.
Tutoring is also available online through Smarthinking, Plato, and LiveChat.
By the way…
If you have a study group, bring them to CAE to study! Numerous resources are available including private study rooms that can help enhance your group study sessions. Tutors can also be scheduled to help support or direct the session to make better use of the time. Let CAE know how they can help you and your study group be more successful.
Phone: 254-299-8500