Faculty/Staff Referrals

A student may not necessarily express a mental health need. Tardiness or excessive absences, alcohol or drug abuse, sudden or extreme changes in behavior, marked changes in personal hygiene/weight, disclosure of sexual assault/harassment/relationship violence, and disclosure of suicidal thoughts or irrational thoughts are often indicators of problems that warrant referral to counseling.
In all situations, talk to the student in private, communicate care for the student's well-being, and refer them to the appropriate resource. A student who may require a Success Coach, need tutoring or may have conduct issues may also be referred for assistance.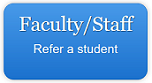 The following guide will assist you in identifying concerns that may warrant referral to the counseling center:
What if ...
Encourage the student to contact the MCC Student Counseling Center at the Wellness & Fitness building, Room 101, by phone at 254-299-8210, or email counseling@mclennan.edu.
Contact the Student Counseling Center to let us know you will be escorting the student to the center.
OR if the student refuses to be escorted to the center, request a counselor (ext. 8210) come to your office to meet with you and the student.
Contact Campus Police at extension 8911.
Contact Campus Police at extension 8911 or off-campus police at 911.
Stress or anxiety
Sadness or depression
Feeling overwhelmed by school, work, and/or family responsibilities
Having difficulty adjusting to recent change
Struggling to make decisions or being unsure of the future
Loneliness or isolation from others
Relationship issues
Sleep problems
Alcohol/drug use
Eating disorders
Grief
Crisis
Trauma - recent or past
Thoughts of harm to self or others
Concerns about their ability to keep themselves safe from harm
Communicating a current plan to attempt suicide
Recently taking steps to commit suicide
Exhibiting a strong desire to physically hurt or harm someone else
Experiencing sexual assault/harassment/relationship violence
Hearing voices or seeing things other people do not
Experiencing emotional distress which prevent them the ability to meet daily responsibilities
Trauma — recent or past
MCC Student Counseling Center office
Wellness & Fitness building, Room 101
Hours: Monday - Friday ,  8:00 a.m. - 5:00 p.m.
(254) 299-8210