Application Process
Notice:
Turn in all completed applications to the drop box in Health Professions, Room 222. For questions regarding your application, please email
kbrotherton@mclennan.edu
.
Emailed applications will NOT be accepted.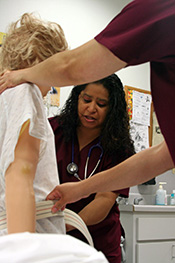 Apply for admission to McLennan Community College.


Attend Vocational Nursing General Information Session.
Call 254-299-8347 to reserve a space or make an individual appointment. General Information sessions are generally held on Mondays at 5:00 PM by appointment only.


The Vocational Nursing Program requires the HESI A2 Exam for Admission.
A score of 75% or above in each of the five categories of the HESI A2 Entrance Exam: Reading, Grammar, Vocabulary, Anatomy & Physiology, and Math. The Critical Thinking portion of the HESI must also be taken but does need to meet a minimum score for admission. For testing dates and to register for the exam, contact the Testing Center. **

Students applying to the LVN program are permitted to take the HESI A2 three (3) times per application cycle.

The exam may not be retaken within a 30-day period.


Complete Immunizations, CPR Certification, and submit proof of Health Insurance.
If accepted into the LVN program, you must provide proof of immunizations against Hepatitis B, Varicella (chicken pox), Measles Mumps Rubella (MMR), Tetanus, the Seasonal Flu Shot, and complete Covid vaccine. 

Current TB skin test (must be within the past year); Level 1 student must have two TB Skin Tests.

CPR Certification must be done through the American Heart Association BLS Provider (infant, child and adult two-year certification). Contact MCC Continuing Education at 254-299-8888 for CPR certification course information. No online certification will be accepted.

Students must provide proof of Health Insurance throughout the duration of the program

Students will upload immunizations into the immunization tracker, Complio, AFTER being accepted into the LVN Program, DO NOT turn in any immunizations with the application.

For questions regarding immunizations, please contact Kellee Brotherton, 254-299-8347 or kbrotherton@mclennan.edu; or 254-299-8367 for a Nursing Advisor.


Apply for admission to the Vocational Nursing program.
Submit the program application to the Vocational Nursing Program secretary (Health Professions building, room 222). Transcripts from any colleges or universities must be submitted with the application. A $20 application fee is required. Please attach a copy of the receipt to the Vocational Nursing Program application. You can pay the fee online in Marketplace.


Complete the Drug Screen and Criminal Background Check.