Vocational Nursing
Notice: The LVN application deadline for the Fall 2023 program is Thursday, June 15, 2023
Notice:
Turn in all completed applications to the drop box in Health Professions, Room 222. For questions regarding your application, please email
kbrotherton@mclennan.edu
.
Emailed applications will NOT be accepted.
Welcome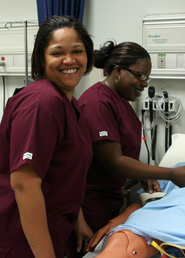 Welcome to McLennan Community College's Vocational Nursing Program. The faculty wants each student to have a positive learning experience and to be successful. We believe in safe practice, honesty and integrity. Workforce skills such as punctuality will be stressed. Competence in nursing is developed through diligence and participation in the classroom, learning lab and all clinical rotations. Students are considered active partners in the learning process.
Licensed Vocational Nurses (LVNs) provide direct bedside patient care that includes activities such as taking vital signs, applying dressings, and administering prescribed medications. They observe and report on patients' symptoms, reactions to treatment and medication, and progress. LVNs may also supervise nursing assistants or aides. The work is active and physical but rewarding and full of opportunities.
MCC's Vocational Nursing Program is accredited by the Texas Board of Nursing. After completing this one-year program, students receive a Certificate of Completion and are eligible to apply for vocational nurse licensure.
Mission
McLennan Community College's Vocational Nursing Program is committed to preparing graduates that can safely and effectively fill a beginning technical level role as a member of the nursing team. Program graduates develop the beginning skills, knowledge, understanding and attitudes essential for giving safe, competent and effective care.
The Vocational Nursing Program is approved by the Texas Board of Nursing. (333 Guadalupe, Tower 3, Austin, Texas 78701; phone 512-305-6818)
For More Information
Please more information, please contact Kellee Brotherton, Health Profession Administrative Secretary at kbrotherton@mclennan.edu  254-299-8347 or Kim Sales-McGee, LVN Program Director at 254-299-8374 or ksales-mcgee@mclennan.edu.
Title IX
Concerns dealing with TITLE IX and other non-specified Civil Rights Issues contact:

Claudette Jackson, Acting Title IX Coordinator
Director, Diversity, Equity & Inclusion
McLennan Community College
Student Services, Suite 319
1400 College Drive
254-299-8465
cjackson@mclennan.edu or
titleix@mclennan.edu
McLennan Community College provides equal opportunities to all individuals and does not discriminate against any individual regardless of race, color, religion, national or ethnic origin, gender, disability, age, veteran status, genetic information, sexual orientation, gender identity, pregnancy, or other legally protected category in its educational programs, activities, or employment.
http://www.mclennan.edu/employees/policy-manual/docs/E-XXXIV.pdf
A lack of English language skills will not be a barrier to admission to and participation in career and technical education programs. La falta de conocimiento del idioma inglés no será un impedimento para la admisión y participación en programas de educación técnica y profesional.
McLennan Community College se compromete a proporcionar igualdad de oportunidades a todas las personas y no discrimina a ninguna persona independientemente de la raza, color, religión, origen nacional o étnico, género, discapacidad, edad, condición de veterano, información genética, orientación sexual, identidad de género, embarazo u otra categoría legalmente protegida en sus programas educativos, actividades o empleo. Para obtener información sobre el cumplimiento de esta política de no discriminación por parte dea institución, comuníquese con vicepresidente Éxito Estudiantil, 1400 College Drive, 254-299-8645, titleix@mclennan.edu.