Curriculum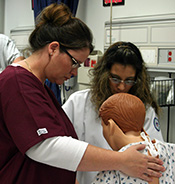 The Vocational Nursing Program consists of four academic courses and 13 nursing courses.
Academic Courses*
BIOL 2404 - Introductory to Anatomy and Physiology *
SPCH - choose one: 1311,1315,1318,1321
PSYC 2301 - General Psychology
HPRS 1206 - Medical Terminology
MATH 0311 - Intermediate Algebra
or the 0137/0138/0139 sequence
or Math 1332
or Math 1342
If required, based on TSI or an approved alternative test result
INRW 0401 & INRW 0402 - Integrated Reading and Writing
If required, based on TSI or an approved alternative test result
Must be TSI complete in Reading, Writing, and Math. Include test scores in Reading, Writing, and Mathematics or placement test Exemption Status.
* Compute the average of your GPA and multiply by 10 = points. If BIOL 2401 & BIOL 2402 is taken, GPA will be computed on highest average of either BIOL 2404 or BIOL 2401 & 2402.
Note: Science course Introduction to Anatomy & Physiology (Biol 2404) or course substitutions Anatomy & Physiology I & II (Biol 2401 & 2402) must not be older than 5 years
Vocational Nursing Courses
(ACCEPTANCE to the LVN program is required to register for the following courses)
VNSG 1327 Essentials of Medication Administration
VNSG 1423 Basic Nursing Skills
VNSG 1122 Vocational Nursing Concepts
VNSG 1360 Clinical-Practical Nurse
VNSG 1509 Nursing in Health & Illness II
VNSG 1260 Clinical-Practical Nurse
VNSG 2510 Nursing in Health & Illness III
VNSG 1261 Clinical-Practical Nurse
VNSG 1119 Professional Development
VNSG 1330 Maternal-Neonatal Nursing
VNSG 1262 Clinical-Practical Nurse
VNSG 1334 Pediatrics
VNSG 1263 Clinical-Practical Nurse
Students must pass both the theory and clinical parts of any vocational nursing course to progress in the program. A grade of C or better must be earned in all courses required for a certificate of completion in Vocational Nursing. A student must be enrolled in both a clinical course and a theory course in every semester.
Clinical times may vary and may include day, evening, nights, and weekends, depending on availability of clinical sites and simulation lab. Students will receive a schedule the first week of class or at the earliest possible time.
Individual copies of the degree plans are available in the Vocational Nursing Program office, Health Professions Building room 222. For further assistance call (254) 299-8347 or e-mail kbrotherton@mclennan.edu.