Application & Admission Requirements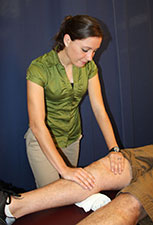 Admission Requirements:
Minimum requirements that must be met to be eligible for consideration include:
Completion of BIOL 2401 Anatomy & Physiology 1 with a C or better, is required prior to starting the PTA program.
TSI complete in reading, writing, and math by the application deadline.
Students are STRONGLY encouraged to complete all 5 academic prerequisite courses prior to applying to the program.
Application Requirements
Applications may be submitted for a given admission cycle from Jan. 2 to June 1 each year. Applications must be complete to be considered for admission into the PTA program.
Mail applications to (faxed or emailed applications or transcripts will NOT be accepted):
McLennan Community College
PTA Department
1400 College Dr
Waco, TX 76708
Note: All applicants must submit an entirely new application packet EACH time they apply to the program.
In order to be considered for admission to the program, an applicant must submit the following by June 1:
Completed MCC application (available online at ApplyTexas.org) and official transcripts to Highlander Central, if you are not already an MCC student.
Completed PTA application and official or unofficial transcripts to the PTA Program Director. It is the student's responsibility to get all updated transcripts to the PTA program director prior to the application deadline

The PTA program allows one retake of a course in an attempt to improve your prerequisite GPA. If you choose to do so, the grade for the retake will be AVERAGED with the original grade during calculation of your GPA for admission to the PTA program.
The additional points towards your application score that are awarded for your grade in A&P I and II will be awarded based on the 1st time you competed the course.

Verification of 40 hours of volunteer/observation or work experience in two different physical therapy settings on the MCC PTA Physical Therapy Experience Form.
(NOTE: Applications will not be considered without this verification)

Examples of physical therapy settings:

Outpatient physical therapy
Inpatient physical therapy
Pediatric physical therapy
Acute rehabilitation (hospital)
Skilled nursing facility
Home health physical therapy

Two (only two, please) completed MCC PTA Basic Workplace Skills Assessment Forms (one from a PT or PTA, the other from an employer, supervisor, teacher, etc. - not a social acquaintance).
Meeting the minimum criteria does not guarantee admission to the program.
MCC PTA Academic Prerequisite Course List
MCC PTA Program Application Scoring Criteria
Physical Therapist Assistant Program Basic Workplace Skills Assessment Form
Physical Therapist Assistant Program Physical Therapy Experience (Volunteer) Form
Application for Physical Therapist Assistant (PTA) Program
---
Applicants are admitted to the program based on the following two stage ranking system until the enrollment limit has been reached.
Stage One: All interested applicants will complete and submit by the June 1st deadline, the required application packet materials. Application packets will be scored and ranked based on the previously established scoring criteria.
Stage Two: Admission Interviews. A pre-selected number of the top scoring candidates from Stage One will be called back for interview on a specific date sometime within 7-14 days after the application deadline of June 1st. Interviews will be conducted by a panel consisting of faculty and experts in the field utilizing a systematic approach and scoring criteria.
Click for Helpful Interview Tips
Note: It is the responsibility of each candidate to ensure their email, phone, and mailing address are correct on the Physical Therapist Assistant program application. The program is not responsible for those candidates that do not receive their notification due to incorrect or outdated contact information. Failure to show up for the interview will forfeit the candidate's opportunity for admission.