Radiologic Technology
Effective immediately: The ATI TEAS exam is no longer an admission requirement for the MCC Radiologic Technology program, beginning with the application cycle deadline of June 1, 2023.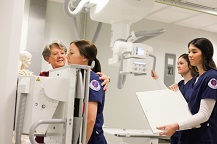 Radiologic Technology is a dynamic health care profession that combines patient care with the manipulation of radiographic equipment. Radiologic Technology has experienced growth in the past several years as technological advancements increase the use and application of imaging modalities.
MCC's Radiologic Technology Program trains students to perform diagnostic imagining exams. Radiologic technologists are responsible for accurately positioning patients to ensure that a quality diagnostic image is produced. They work closely with radiologists, the physicians who interpret medical images to diagnose disease or injury.
After successful completion of the two-year Radiologic Technology Program, students receive an Associate of Applied Science degree and may apply to take the certification exam administered by the American Registry of Radiologic Technologists.
Admission Process & Criteria
Visit the Admission Process & Criteria page to review the application criteria and to apply.
For More Information
Please contact Meredith Brown, Program Director, at Community Services Center Room C202, 254-299-8342 or mbrown@mclennan.edu.
For students in this program who may have a criminal background, please be advised that the background could keep you from being licensed by the State of Texas. If you have a question about your background and licensure, please speak with your faculty member or program director. You also have the right to request a criminal history evaluation letter from the applicable licensing agency.