Commencement
Fall 2023 Commencement Information
Fall 2023 Commencement Ceremony
The BASE at Extraco Events Center
December 9th, 2023
Ceremony 10:00 a.m. - Graduates arrive by 9:00 a.m., Saturday, December 9th, 2023

There will not be a rehearsal for this ceremony. Graduates will receive important information by email. This information will also be posted on a link to the right named Commencement Day Procedures - Convention Center. 
Guests will not need tickets for this event.

The event will also be live-streamed for those who cannot attend. Students eligible for graduation will receive a notification email to their MCC student email account on Wednesday, September 13th, 2023.
Please contact us at commencement@mclennan.edu with any questions.
Graduation Information Form Deadline: November 15th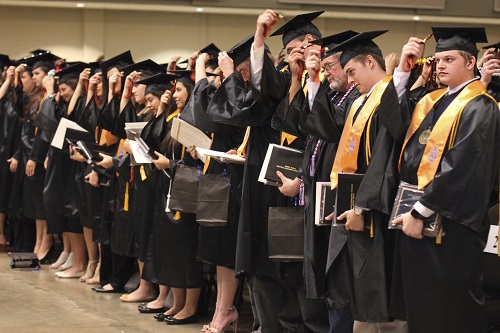 Contact Us
Student Records & Registration
254-299-8434 or 254-299-8660
Email:
commencement@mclennan.edu
Location
Enrollment Services Building

Students are not required to complete an application for graduation. The Office of Student Records and Registration staff will identify students who are eligible to graduate and notify them by email.
The graduation information form allows candidates to provide information about how they would like their name to appear on the certificate or diploma, and if they will attend the commencement ceremony. This form is located on WebAdvisor under Academic Planning.
Students need to:
Check WebAdvisor at least once per semester to verify the accuracy of the active academic program and catalog year.
Meet with an assigned advisor prior to each registration to verify degree progress toward graduation.
Notify your advisor of any discrepancies with your academic program.
If you have any questions, contact us at commencement@mclennan.edu.