Commencement
Spring 2021 Commencement Information
Spring 2021 Commencement Ceremony
Waco Convention Center, Chisholm Hall
May 11, 2021
7 p.m. - Graduates arrive by 6:15 pm
We have been working closely with our Leadership Team and the Emergency Operations team to determine how to offer a safe and memorable commencement experience for our graduates. Following their recommendations in accordance with the federal, state, and local guidance, we are excited to announce our plans to conduct an in-person Spring 2021 commencement ceremony  at 7 p.m. on Tuesday, May 11, 2021. The ceremony will be held in Chisholm Hall at the Waco Convention Center. The event will be for graduates only and will be livestreamed for the audience. A number of precautions will be taken to meet health and safety standards, including face coverings, physical distancing, and sanitizing.
It is important to note that the health and safety of our graduates and their families and friends is our top priority. At this time our plans are to conduct an in-person ceremony, but plans may change if the public health conditions require.
This website will be updated as more information is available. The Records & Registration office will also be communicating with graduates by email.
We will continue to monitor COVID-19 at the local and regional levels in the weeks prior to commencement and will continue to update this page with additional information. Please contact us at commencement@mclennan.edu with any questions.
Students eligible for graduation will receive a notification email to their MCC student email account on Monday, February 22, 2021.
Graduation Information Form Deadline: April 15th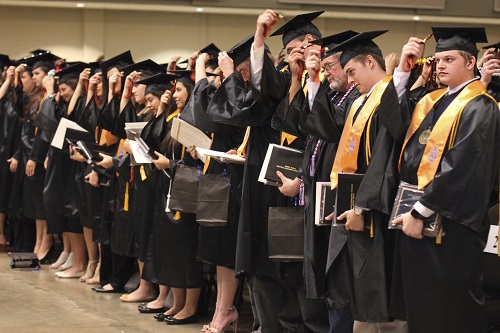 Contact Us

Students are not required to complete an application for graduation. The Office of Student Records and Registration staff will identify students who are eligible to graduate and notify them by email.
The graduation information form allows candidates to provide information about how they would like their name to appear on the certificate or diploma, and if they will attend the commencement ceremony. This form is located on WebAdvisor under Academic Planning.
Students need to:
Check WebAdvisor at least once per semester to verify the accuracy of the active academic program and catalog year.
Meet with an assigned advisor prior to each registration to verify degree progress toward graduation.
Notify your advisor of any discrepancies with your academic program.
If you have any questions, contact us at commencement@mclennan.edu.