The Stone Circle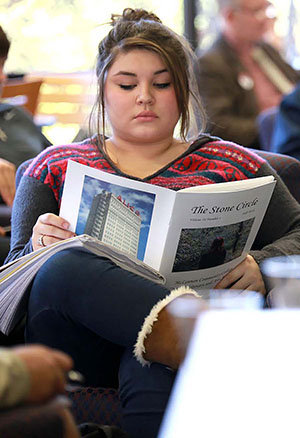 Interested in art and writing? Check out the Fall 2022 issue of The Stone Circle, MCC's student art and literary journal. Limited print copies are available (visit Faculty Office Building, Room 113). You can view our Spring 2022, Fall 2021, Spring 2021, Fall 2020, and Spring 2020 digital issues online.
The Stone Circle publishes student work in a digital magazine each semester and a print issue in the spring semester. Prizes are awarded in poetry and prose (for submissions in English and Spanish), as well as in visual art. All students taking classes through MCC, the University Center, or dual-credit programs are encouraged to submit their work.
Check out our full submission guidelines here.
SAVE THE DATE: Submit your work for our Spring 2023 issue by 10:00 pm on March 17th, 2023.
The Stone Circle acepta envíos en inglés o español. Consulte las pautas en español aquí.
Work should be submitted via email to Jessica Zbeida (Associate Professor of English) at jzbeida@mclennan.edu.
Donations supporting The Stone Circle may be made through MCC Marketplace. Gifts may be designated for specific student prizes or as general donations.
Donations allow us to recognize and support the exceptional work our students do every year.
Want more? Read about our annual student reading series, Casa de Café, here. Hope to see you there!