Technical Standards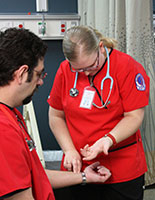 Each student enrolled in the Respiratory Care Technology Program must demonstrate the following abilities:
Observation - The student must be able to participate actively in all demonstrations, lab exercises, and clinical experiences in the professional program component and to assist and comprehend the condition of all patients assigned.
Communication - Using the English language, the student must be able to communicate effectively, tactfully and sensitively with patients in order to elicit information, assess nonverbal communications, and be able to effectively transmit information to patients, fellow students, faculty and staff, and all members of the health care team.
Motor - The student must have sufficient motor (physical) function to elicit information from patients by appropriate therapeutic maneuvers; be able to perform basic tests; possess all skills necessary to carry out therapeutic and diagnostic procedures; be able to interpret appropriate examinations and procedural results; and be able to execute motor movements reasonably required to provide general care and emergency treatments to patients.
Intellectual/Conceptual Integrative and Quantitative Abilities - The student must be able to measure, calculate, reason, analyze, evaluate, and synthesize. Problem solving, the critical skill demanded of health practitioners, requires all of the aforementioned intellectual abilities.
Behavioral and Social Attributes - The student must possess the emotional health required for full utilization of the student's intellectual abilities; the exercise of good judgment; the prompt completion of all responsibilities, attendant to care of patients; and the development of mature, sensitive and effective relationships with patients, fellow students, faculty and staff, and all members of the health care team.
Students must also be able to tolerate expected work loads, function effectively under occasional stressful situations, adapt to changing environments, display flexibility, and learn to function in the face of uncertainties inherent to clinical problems as displayed by various patients. Compassion, integrity, concern for others, interest, and motivation are personal attributes that each student should possess.
McLennan Community College does not discriminate on the basis of gender, disability, race, creed or religion, color, age, or national origin. (Nov. 2000)