Cosmetology
Are you creative? Do you enjoy interacting with people and have the desire to help others? Then a career in cosmetology may be right for you!
Our Cosmetology Department offers two specialized programs.
Basic Operator Program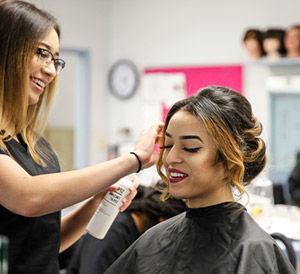 Students in the basic operator program will learn haircutting, hair coloring, hair styling techniques, basic skin care practices, manicures, and pedicures.
This program is two semesters long, new classes begin each Fall and Spring semester, and classes are held Monday to Friday from 8:30 am to 3:30 pm each semester. 
Esthetician Program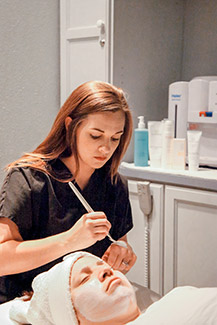 Students in the esthetics program will learn how to perform basic facials, microdermabrasion facials, chemical peels, electrotherapy techniques, eyelash and eyebrow tinting, and basic makeup application techniques.
This program is two semesters long, and new classes begin each Fall and Spring semester. Class times vary per semester, please contact our office for further schedule information. 
As a trained cosmetologist in either of our certification programs, you can help people look and feel their best through a variety of career opportunities that offer flexible work hours and locations.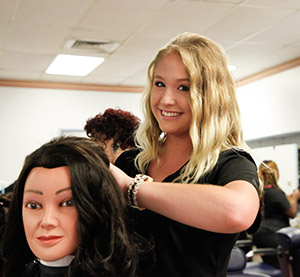 Hands-On Training
In addition to lecture classes and bookwork, McLennan's Basic Operator and Esthetician programs provide you with specialized beauty and customer service skills through lab hours served at our on-campus salon and spa. You will provide a wide variety of services to the community, all in consultation with instructors who are experts in the field, and who supervise each service.
For More Information
Please contact Nicole Beckwith-Dawson, Administrative Assistant, at 254-299-8701 or nbeckwith@mclennan.edu or Laura Hays, Program Director/Instructor, at 254-299-8702 or lhays@mclennan.edu.
For anyone interested in our programs who have a criminal background
, please be advised that your background could keep you from being licensed by the State of Texas. Guidelines can be found at 
www.tdlr.texas.gov/crimconvict.htm
. If you have a question about your background and ability to be licensed, please contact the Texas Department of Licensing and Regulation (TDLR) at 512-463-6599. You also have the right to request a criminal history evaluation letter from TDLR,
www.tdlr.texas.gov/crimhistoryeval.htm
.