FAQ
What is a Veterinary Technician?
A veterinary technician as defined by the American Veterinary Medical Association (AVMA) as "a person who has graduated from a two or three year, AVMA accredited program of veterinary technology."
Does the American Veterinary Medical Association currently accredit the program at McLennan Community College?
This program is accredited by the American Veterinary Medical Association
What jobs are available to someone with a degree in Veterinary Technology?
Training as a veterinary technician enables the student to work as professional technical support to veterinarians, biomedical researchers, and other scientists as well as positions in the pharmaceutical industries, animal control and humane organizations and local, and state health departments. Opportunities for jobs exist in the following areas: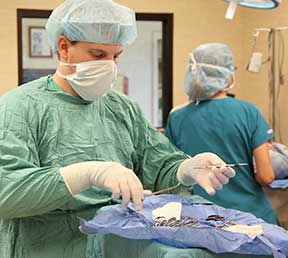 Veterinary practice
Veterinary supply sales
Zoo/Wildlife Medicine
Diagnostic Laboratories
Biomedical research
Humane societies
Military Service
Teaching
Herd Health Managers
What knowledge must I acquire to be a Veterinary Technician?
The veterinary technician must be knowledgeable in the care and handing of animals, their normal and abnormal life processes, medical and surgical nursing, anesthesiology, radiology, and clinical laboratory procedures in addition to customer service and client relations.
Does the program at McLennan Community College provide the needed courses to be a Veterinary Technician?
Yes. Upon fulfilling the courses in the veterinary technology curriculum the student will graduate with an Associates degree (A.A.S.) in Veterinary Technology and will be qualified to take the state and national licensing examinations administered by the Texas Board of Veterinary Medical Examiners and the AAVSB, respectively. Following successful completion of the curriculum and successful passage of the state and national examination you are then credentialed as a Licensed Veterinary Technician (LVT) by the State of Texas.
What would be a technicians role in a Veterinary practice?
The AVMA's policy on veterinary technology states: "The duties of a veterinary technician shall be performed under the direction, supervision, and responsibilities of veterinarians. These duties shall be accomplished in compliance with federal, state and local laws and shall not include diagnosing, prescribing, or performing surgery. Examples of areas of responsibility that a LVT can assume in a veterinary practice are: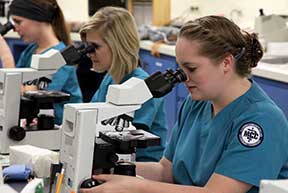 Physical examination and Patient history
Client communication and education
Caring for the hospitalized patient
Administration of medications and vaccines
Clinical laboratory procedures
Dental prophylaxis
Radiology
Anesthesiology
Surgical Assisting
Office/Hospital management
Can I find employment with my Veterinary Technology Degree?
Veterinary technologists and technicians held about 79,600 jobs in 2008. About 91 percent worked in veterinary services. The remainder worked in boarding kennels, animal shelters, rescue leagues, and zoos. Job prospects. Excellent job opportunities are expected because of the relatively few veterinary technology graduates each year. The number of 2-year programs has recently grown to about 160, but due to small class sizes, fewer than 3,800 graduates are anticipated each year, a number that is not expected to meet demand. Additionally, many veterinary technicians remain in the field less than 10 years, so the need to replace workers who leave the occupation each year also will produce many job opportunities. Statistics taken from the US Department of Labor, Bureau of Labor statistics www.bls.gov/.
Who can I contact if I have any further questions on the program?
For more information please contact: Sue Allen, LVT/Program Director 254-299-8742 or email at: suallen@mclennan.edu