Accreditation & Licensing
McLennan Community College is accredited by the Southern Association of Colleges and Schools Commission on Colleges to award the Associate of Arts, Associate of Science, Associate of Arts in Teaching, and Associate of Applied Science degrees. Contact SACSCOC at 1866 Southern Lane, Decatur, Georgia 30033 or call 404-679-4500 for questions about the accreditation of McLennan Community College.
Associate Degree Nursing Program Accreditation
The Associate Degree Nursing Program at McLennan Community College in Waco, Texas is accredited by the Accreditation Commission for Education in Nursing (ACEN).
3390 Peachtree Road NE, Suite 1400
Atlanta, GA 30326
(404) 975-5000
The most recent accreditation decision made by the ACEN Board of Commissioners for the Associate Degree Nursing program is Continuing Accreditation.
View the public information disclosed by the ACEN regarding this program at  https://www.acenursing.org/search-programs/
ACEN supports the interests of nursing education, nursing practice, and the public by the functions of accreditation. Accreditation is a voluntary, self-regulatory process by which non-governmental associations recognize educational institutions or programs that have been found to meet or exceed standards and criteria for educational quality. Accreditation also assists in the further improvement of the institutions or programs as related to resources invested, processes followed, and results achieved. The monitoring of certificate, diploma, and degree offerings is tied closely to state examination and licensing rules, and to the oversight of preparation for work in the profession.
---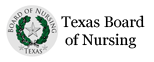 The Associate Degree Nursing Program is approved as a Professional Nursing Program by the Texas Board of Nursing.
Approval status: Full
Contact Information:
Texas Board of Nursing
1801 Congress Avenue, Suite 10-200
Austin, Texas 78701
Office: (512) 305-7400 
Fax: (512) 305-7401
www.bon.state.tx.us
The mission of the Texas Board of Nursing BON is to protect and promote the welfare of the people of   Texas by ensuring that each person holding a license as a nurse in the State of Texas is competent to   practice safely. The Board fulfills its mission through the regulation of the practice of nursing and the   approval of nursing education programs. The mission, derived from the Nursing Practice Act, supersedes   the interest of any individual, the nursing profession, or any special interest group.